Over the last three years, the annual bike tour has become a permanent fixture on the UIKonf schedule — first as an impromptu meetup on the day after the conference, now as one of several official social events.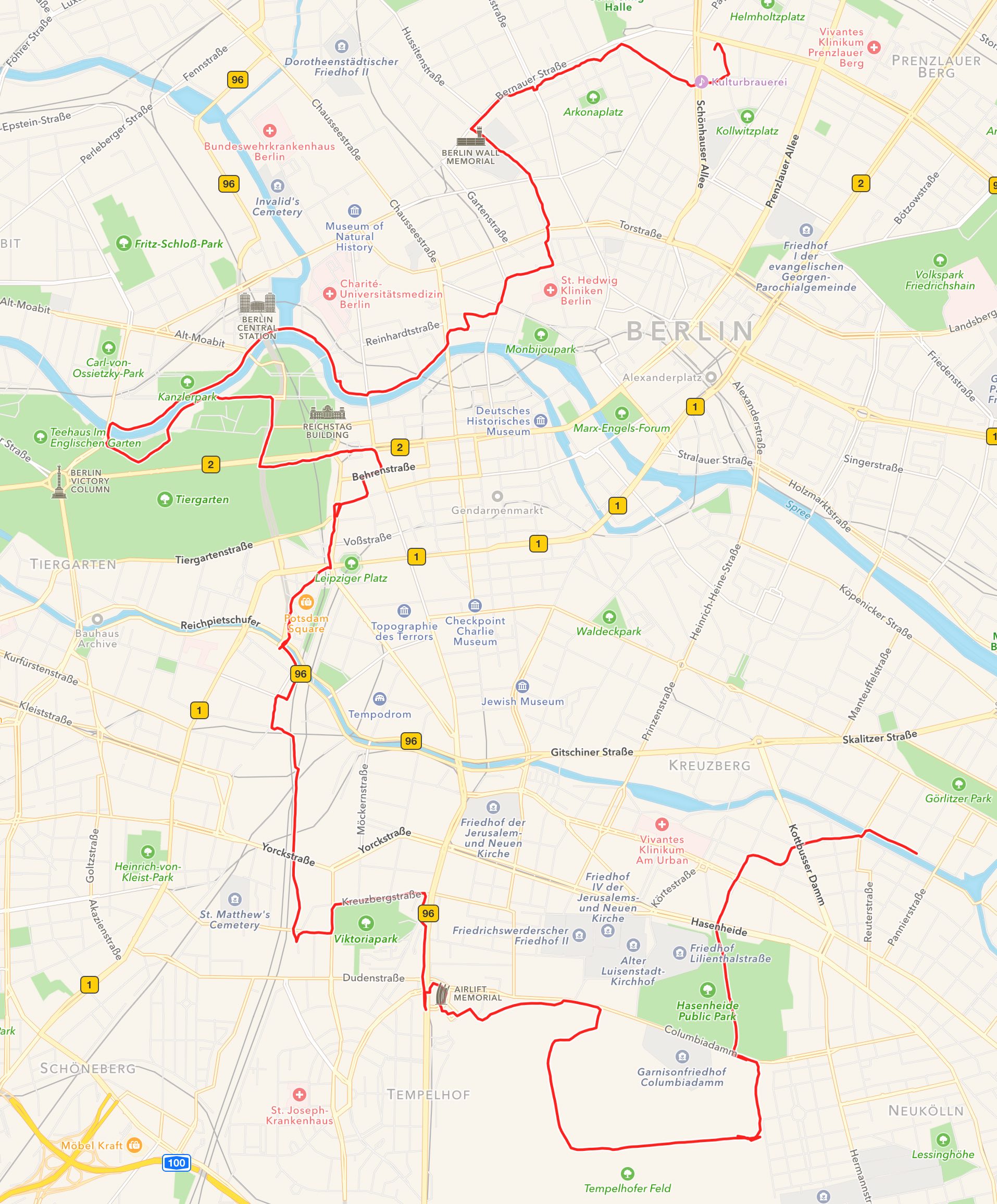 Our route this year took us from Kulturbrauerei in Prenzlauer Berg to Kreuzberg. Sights we saw along the way include the Berlin Wall Memorial at Bernauer Straße; the government quarter along the Spree, with the Reichstag, central station, and Bellevue Palace; the Tiergarten and Brandenburg Gate; the Holocaust Memorial; Potsdamer Platz; Gleisdreieck park where we stopped for ice cream; and, my personal favorite of any Berlin tour, the abandoned Tempelhof Airport that is now a public park. Riding your bike on the runway is a great feeling.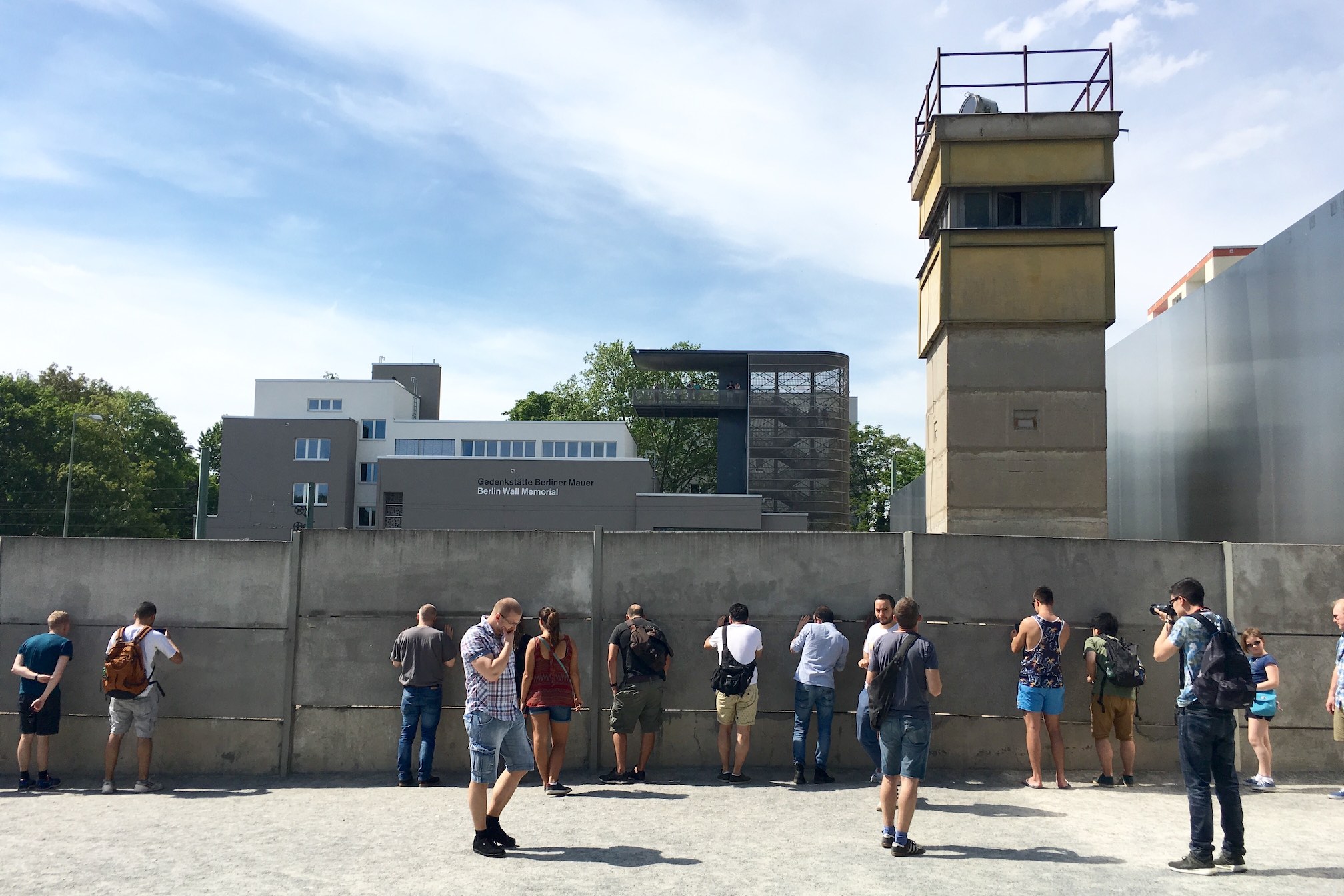 In total, we biked almost 25 km in a little less than 4 hours, including breaks. This may not sound like much, but with the hotter-than-usual weather (up to 28 °C) most of us were pretty tired at the end. I also felt that I had to rush the group a little towards the end in order to not fall behind our schedule. Despite having organized several bike tours for larger groups, I'm always surprised anew how slow a group of 20+ cyclists moves. A somewhat shorter route (say about 20 km) would have been better, even if that would have meant leaving out some attractions.
Anyway, I had a blast organizing the tour and guiding the group through Berlin. I'd like to thank everybody who attended and helped make this a fantastic day. Special thanks to my fellow guides Alexis, Gernot, Linnart, and Christian, who expertly kept the pack together.
Do your own bike tour
If you want to do a bike tour in Berlin, feel free to take our route as inspiration or even follow it outright. I think it offers a very good sampling of Berlin's sights and atmosphere, with little car traffic and good cycling infrastructure. If like us you want to start at Kulturbrauerei, Berlin on Bike, the bike rental company we used, is based there.
Download the route: UIKonf Bike Tour 2016 GPX track.
There are lots of maps apps that can display GPX tracks or even do routing along a track. Galileo Offline Maps is available for iOS and Android and one of my favorites.
Lessons learned
Let me close with a few lessons we have learned in the last two years.
With about 35 people, our group this year was too big to handle comfortably. The speed of the group seems to be roughly inversely proportional to its size. One 40-person group is slower than two 20-person groups. When the group is larger than 15–20, you won't get through traffic lights in one green phase anymore. It also becomes difficult for the leader to see from the front what the back of the group is doing. If practical, consider splitting up the group into several smaller ones. Each group should have at least two guides (one in the front and one in the back) to make sure nobody gets lost.
The larger your group is, the more of an annoyance you become for other people. Plan ahead where you can stop comfortably with the entire group without blocking the way for pedestrians, other cyclists, or drivers.
People are interested in explanations of the sights, but that quickly becomes impractical or time-consuming with a large group. Either focus on one thing, cycling or guided touring, or plan enough time to do both adequately.
We were able to arrange with the bike rental company to have the bikes picked up at a location of our choosing at the end of the tour. This gave us a lot more flexibility in planning the route because it didn't have to be circular. And ending the tour at the location for the conference's kick-off event in the evening made it more convenient for attendees.
Buy more water if it's hot. People appreciated that we brought a water bottle for everyone, but ½ l per person was not enough.