I recently bought the Logitech Tablet Keyboard for iPad to write and edit longer texts (such as this article) on my iPad, and I like it a lot.
Unlike many other iPad keyboards on the market, this one is a full-size keyboard, which makes it wider than the 10-inch iPad. It is almost identical in size to Apple's own wireless keyboard, and it also connects to the iPad via Bluetooth. The Tablet Keyboard comes with a case that doubles as an iPad stand when in use. The iPad's angle on the stand can be adjusted. It costs 70 dollars/euros.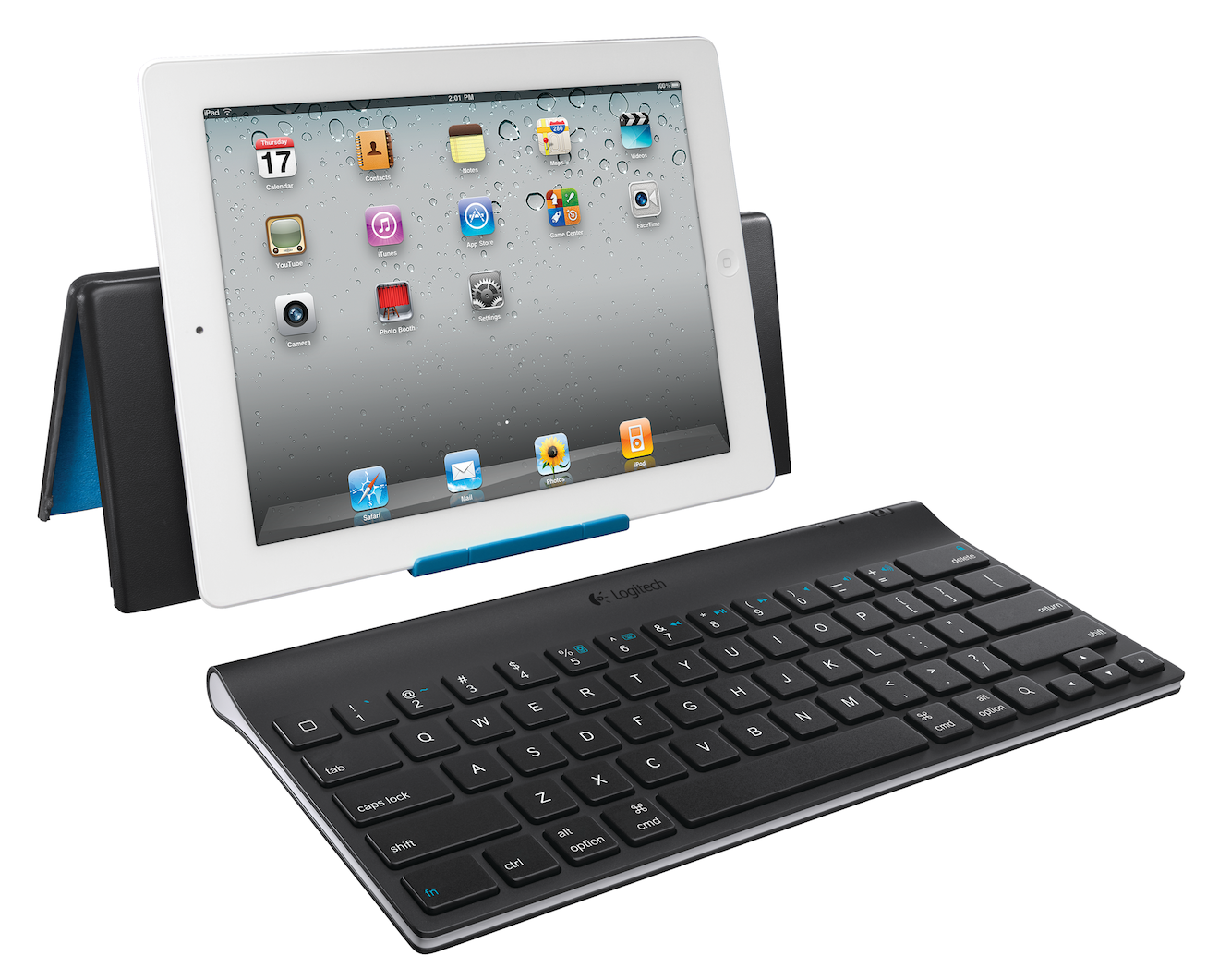 Made for Stationary Use
Typing on the Tablet Keyboard feels very similar to an Apple Wireless Keyboard. The placement of the keys is practically identical to the Apple model1, and so is the typing experience. If you are regularly using an Apple external or notebook keyboard, you won't have to readjust to the Logitech. At 398 grams (incl. batteries), it is noticeably heavier than the Apple Wireless Keyboard (325 g). It is also heavier than an iPad mini, and that is without the case, which weighs another 220 grams.
The size and weight make for a very sturdy and comfortable feel on a desk. They also make this model less than ideal for constant carrying. Unlike many other keyboards made for the iPad, the Logitech Tablet Keyboard lets you freely position stand and keyboard as the two are not attached to each other. Again, this is great for stationary use at a table; if you are looking for a keyboard and stand combination that is easy to balance on your lap when you are sitting on a train (or on the couch), this is not the model you are looking for.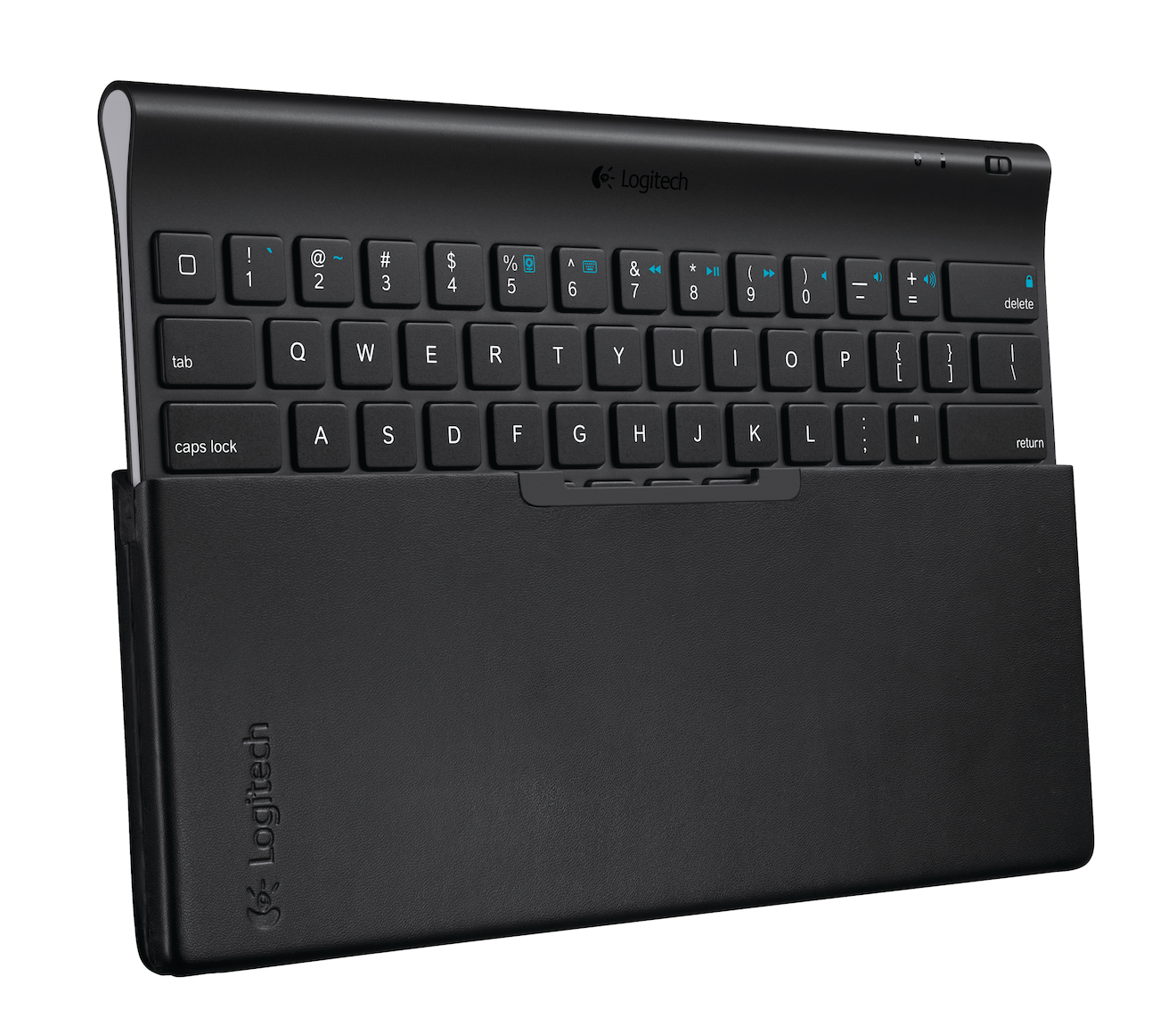 Optimized for iPad
If you are in the market for a full-size keyboard for your iPad, you might wonder what makes this dedicated tablet keyboard a better choice than a standard Apple Wireless Keyboard, which works just fine with the iPad, after all. These are some advantages the Logitech model has over a standard Bluetooth keyboard:
It has a prominent off switch. This is important because you have to turn the keyboard off to make the iPad's on-screen keyboard appear while the external keyboard is in Bluetooth range.

It has several special keys that perform certain system functions on the iPad. Where a normal keyboard has its Esc key, this one has a Home button. It supports all the functions of the iPad's Home button: hit it once to get to the Home screen; hit it again to get to Spotlight; hit it twice to open the task switcher; etc.

There is also a dedicated Search button that takes you right to Spotlight. In combination with Fn, the number keys let you control the media player, volume, and lock the device. When the device is locked, you can even unlock it from the keyboard by hitting the Home key first and then the space bar.

It comes with a carrying case. The flexible stand lets you use the iPad in both portrait and landscape orientations, which is something Apple's Smart Cover does not do.
Verdict
The Logitech Tablet Keyboard is a great iPad keyboard, especially if you mainly buy it for stationary use at a desk. Since I purchased it for exactly that function (I wanted something to be able to write at home when I left my Macbook at the office), I like it a lot and I highly recommend it if you have a similar use case. If you're looking for a tablet keyboard that you carry around every day and mainly use on your lap, there are probably better choices on the market.
A Better Alternative?
Perhaps an even better choice than the Tablet Keyboard is the new Logitech Easy Switch Keyboard. At 100 dollars/euros, it is a bit more expensive, but it comes with backlit keys like Apple's laptop keyboards and allows you to quickly switch between up to three separate Bluetooth devices without the pain of having to go through the pairing and unpairing process every time. This means you can have one external keyboard and use it comfortably with your laptop, iPad and iPhone. I also like how Logitech managed the energy supply: the Easy Switch Keyboard has a built-in battery and comes with a USB cable for charging.
If you don't need a carrying case and dedicated iPad stand, this model looks like a very versatile solution (though I dislike the design). Note that I haven't used or even seen one of these in real life.
The only key placement that bothers me is the dedicated Spotlight key to the left of the cursor keys. I find myself often hitting the Search key by accident when I want to hit the right Option key. ↩︎