Most of you probably know of the WWDC session videos Apple posts to its developer site each year. These videos are invaluable resources for learning about new technologies and APIs directly from their creators. Since 2010, the WWDC videos are free for all registered Apple developers so you really have no excuse for not watching them.
New Videos with iOS 5 Tech Talk Content
Occasionally, Apple even updates its selection of developer videos outside the annual WWDC cycle. In fact, Apple just posted 10 new videos to developer.apple.com/videos/ios/ in December 2011: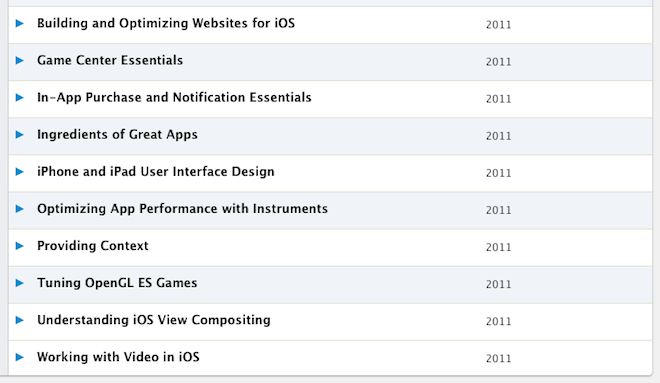 Some of these new videos deal with the same topics that Apple focused on in its recent iOS 5 Tech Talk world tour, so if you haven't had the chance to attend one of the Tech Talks, watching the videos brings you much of the same content. For instance, the video titled Optimizing App Performance with Instruments, presented by Michael Jurewitz, follows Michael's Tech Talk session on Performance Measurement pretty closely.
Other videos I recommend:
Ingredients of Great Apps with John Geleynse.
Understanding iOS View Compositing with Bill Dudney.
Tuning OpenGL ES Games (using Instruments) with Allan Schaffer.
To download the new videos, go to developer.apple.com/videos/ios/. It seems they are available for free for all registered iOS developers, just like the WWDC videos.